Domain and Hosting လုပ္ငန္းၿဖင့္ စီးပြားေရးလုပ္ငန္း တစ္ခုစတင္ တည္ေထာင္လုိသူမ်ားအတြက္ World Wide Myanmar မွ Unlimited Bandwidth, Unlimited Diskspace စသည္တုိ႔ပါ၀င္ေသာ Reseller Plan မ်ားကုိ ေဖေဖၚ၀ါရီလအတြက္ Reseller မ်ားအတြက္ အထူးေလ်ာ့ေစ်းၿဖင့္ ေရာင္းခ်ေပးေနပါသည္။
ယခင္ R-Pro 1: 96000 ks/year ==> 48000 ks/year
ယခင္ R-Pro 2: 180000 ks/year ==> 90000 ks/year
ယခင္ R-Pro 3: 300000 ks/year ==> 150000 ks/year
အထူးအစီအစဥ္မွာ ၀ယ္ယူသူတုိင္းအေနနဲ႔ Dedicated IP တစ္ခုစီရရွိမွာၿဖစ္ပါတယ္။ ထုိ႔အတူ Free Migration လည္းၿဖစ္ပါတယ္။ အၿခား Hosting တစ္ခုမွ ေၿပာင္းလဲမယ္ဆုိရင္ WWM မွ အခမဲ႔၀န္ေဆာင္မူေပးပါတယ္။
Diskspace = Unlimited
Bandwidth = Unlimited
Web Host Manager = yes
Private Name Server = yes
Dedicated IP Address = yes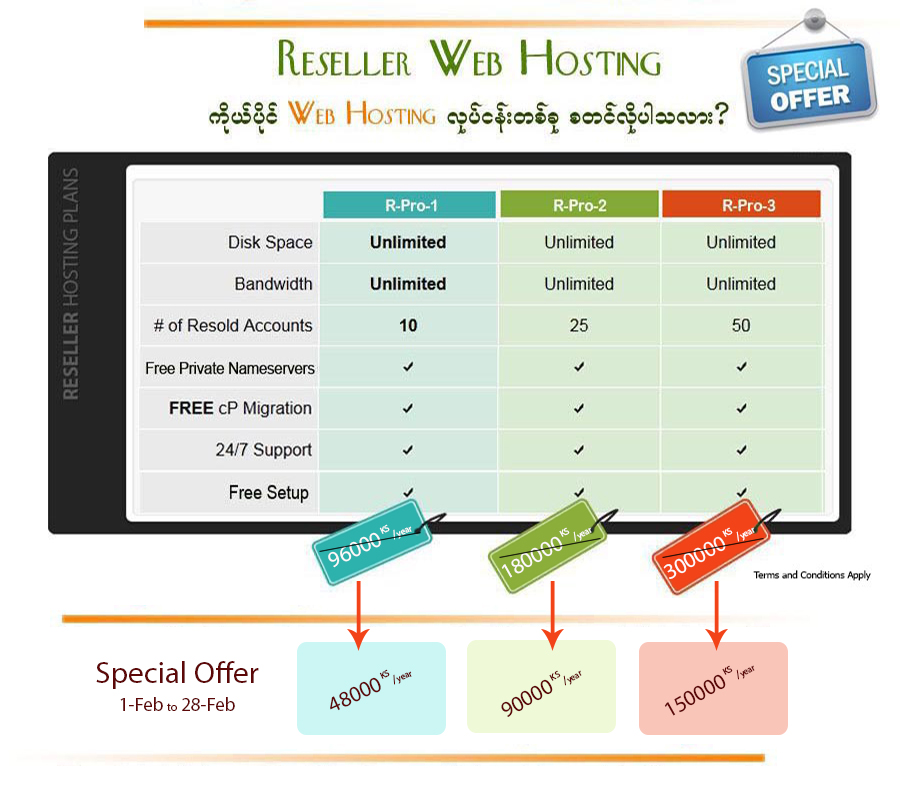 ဖေဖေါ်ဝါရီလအတွက် Reseller များအတွက် အထူးလျော့ဈေး
Please check here fore more detail….
Choose a reliable provider for your Hosting Business
One of the fundamental rules for becoming a successful Web Host is choosing a provider that offers a good mix of products and low prices. It is important to have a redundant and scalable infrastructure backed by superior technical support, fantastic uptime and regular software updates. To allow you to focus on your business, uninterrupted, it is a smart choice to choose a Reseller Program that meets all these requirements in an efficient and timely manner.
Price your products competitively
Your reputation for reliability and your strong brand identity will get customers to your platform, but you will need to offer them competitive pricing and good value-for-money to retain them.