SELECT YOUR WINDOWS HOSTING PLANS
DIFFERENT

HOSTING PACKAGE

TO SUIT EVERY NEED
Powerful Windows Hosting
PLESK ADVANCED FEATURES
The "control panel" is your portal to website and server management. Check out some of the screenshots below. Take comfort in knowing that hundreds of thousands of sites are managed from our portal every day and we're here to help if you ever have any questions.
START YOUR ASP.NET WEBSITE
WWM Windows Web Hosting offers the power and flexibility of Parallels Plesk Panel, IIS (Internet Information Services), Microsoft SQL Server 2008 R2, and a wide variety of other hosting features, including site building tools and templates.
PLESK SECURITY
Web industry research shows 9 out of 10 web app developers decide on securing an application when it's too late. Plesk fully secures your applications and websites automatically.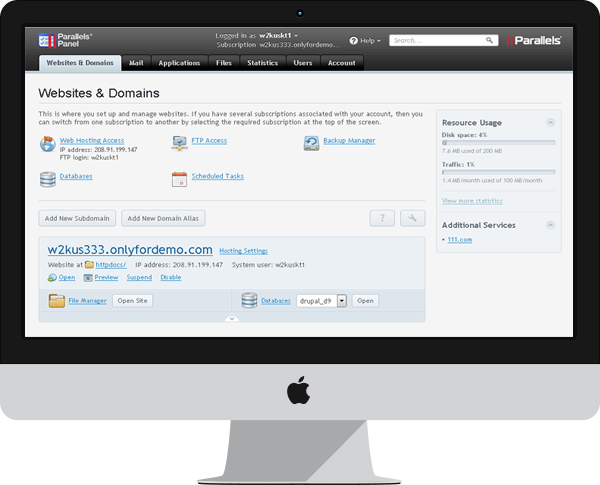 Unlimited Everything!
Unlimited Disk Space
Unlimited Bandwidth
Unlimited Email Accounts, Forwarders, Auto Responders
Unlimited FTP Accounts
Unlimited MySQL Databases
Powerful Control Panel – Plesk (View Demo)
World's Leading Hosting Control Panel
Manage Web Pages, View Website Statistics, Create Email Accounts etc.
Comes with Web Application Script Installer – Install Blogs, Shopping Carts etc.
Reliable Support
99.9% Uptime Guarantee
30 Day Money Back Guarantee
24x7x365 Support
Robust Infrastructure
State-of-the-art Datacenters
Dual Quad-Core Xeon powered Servers
Redundant Scalable Servers
Advanced Email Hosting Included
Unlimited POP3 Email Accounts with SMTP
IMAP Support
Easy to use Webmail Interface
eCommerce ready
Private SSL Available
Add-on Dedicated IP
Supports osCommerce, CubeCart, Zen Cart
Server Specifications
Dual E5530 2.40GHz Xeon quad core hyperthreaded processors
24 GB RAM
250 GB RAID 1 (mirrored) OS drive
1 TB RAID 1 (mirrored) customer data drive cached
Battery backed, RAID controller for all drives
Redundant Power, HVAC & Fire-Detection Systems
Programming Support
Windows Server 2008
IIS 7.0, ASP.NET 4.5, ASP, PHP 5.2x, PHP 5.3x, GD, cURL, CGI, mcrypt
MySQL 5, MSSQL 2012
Zend Optimizer, Zend Engine, ionCube Loader
Security & Access
Anti Spam & Virus Protection
Password Protect Directories
Secure FTP Access
IP Blocking
phpMyAdmin Access
Hotlink & Leech Protection
Cron Jobs for Scheduled Tasks
Customizable Error Page
Website Statistics with AWstats
Email & Domain Name Features
Outlook, Thunderbird and Windows Mail compatible
Blackberry, iPhone, Android and PDA support
Feature packed Webmail
Advance Spam/Virus Protection
Mail Forwards, Email Aliases, Auto Responders
Unlimited Mailing Lists, Catch All Accounts, Mail Spam Filters
Parked Domains
Free DNS Management
Domain Forwarding, Path Forwarding, URL Masking